Braces and Clear Aligners
Orthodontic technology is changing and evolving quickly to make your treatment faster, easier and more comfortable than ever before.  At Abbotsford Orthodontics we are proud and excited to offer the newest technology to our patients – from digital scanning (no more messy impressions!), custom brackets and wires, esthetic options, and accelerated treatment options.  We would love to show you all the great ways you can achieve your fantastic smile!
Damon
The Damon bracket system was invented by Dr. Dwight Damon. This new bracket is a self -ligating system that uses a sliding door which allows the bracket to slide along the wire. Elastics and steel ties are no longer needed with the Damon bracket. The brackets are used together with high-tech, temperature sensitive, preformed archwires. The wires are light weight and contribute gradual, consistent pressure to the teeth allowing movement to take place in a gentle and comfortable way. This innovative technology helps reduce friction, which decreases treatment time and the number of visits, while increasing patient comfort.
Even though colors are not necessary, many patients enjoy having different colors placed on their brackets. Elastics are easy to change, so feel free to swap colors at every visit.
For more information check out their website.
LightForce
Each bracket is custom built by LightForce using some of the world's most sophisticated 3D Printing technology. LightForce braces fit every tooth perfectly to maximize comfort and reduce breakage. LightForce brackets come in two distinctive styles: the Cloud Bracket and the Light Bracket. The white-coloured Cloud bracket tends to be most popular with patients looking to be bold and make the band colours "pop," while the translucent Light Bracket tends to be more popular with patients looking for a highly aesthetic treatment option.
For more information check out their website.
Insignia

Insignia custom smile design is a computerized system that combines digital treatment planning with customized brackets and wires made for your specific dental anatomy.  Insignia is a customized Damon bracket and comes in metal and clear, but is made just for you!  With this advanced technology, treatment times and number of visits necessary are decreased as orthodontic movements become more efficient than ever before..
Clear Aligners (Invisalign and Spark)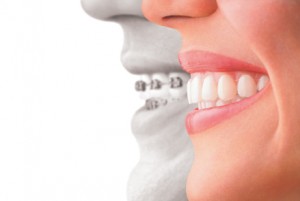 Invisalign  and Spark are ways to straighten your teeth – without brackets! These system are a series of clear overlay trays called aligners that gradually move your teeth. The trays are custom made to fit your teeth from a computerized simulation of your bite. Invisalign or Spark are great treatment options for many orthodontic problems of teens and adults. Since the trays are removable, you can eat and drink whatever you want while you are undergoing treatment, plus they make oral hygiene simple – just stick to your normal pre-orthodontic routine. The aligners are comfortable and relatively thin, so they won't interfere with your speech or normal function.
Invisalign and Spark aligners works by wearing each set of aligners for about one to two weeks and removing them only when eating, drinking, brushing and flossing. You will visit us every 8-10 weeks to have the trays checked and to pick up new ones. Over the course of your treatment your teeth will move little by little as they align. The average number of trays is between 25-50, but this does vary case by case.
For more information on Invisalign you can check out their website, or for Spark click here.
Dr. Felty is a certified preferred Invisalign provider.